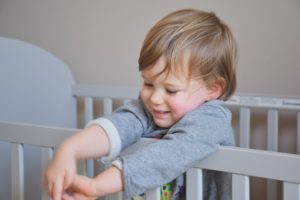 Drop-side cribs have been known to be problematic for some time now. In fact, in July of 2010 we reported that over 2 million drop-side cribs had been recalled by the Consumer Products Safety Commission (CPSC).
Well now the CPSC has gone even further, announcing last month that it was banning the sale and re-sale of all drop-side cribs, effective June 2011.
As explained in this USA Today article, the cribs are being recalled because of extensive reports of problems and injuries:
Under federal safety rules, it's considered a defect if products repeatedly break or otherwise malfunction during normal use or even misuse. USA TODAY reported in August that its analysis of CPSC data found that before they recalled the cribs, 14 crib companies amassed more than 900 incident reports about drop-side cribs that were falling apart, injuring and killing infants.
There have been reports of at least 30 infant deaths over the last 10 years because of the dangerous drop-side cribs. The much-needed ban will reduce infant injuries and deaths and make cribs safer for our children.
It is their well being that matters more than anything else and it is our job to protect them. As we've said in the past, the safety of our children depends on the vigilance of parents and guardians, the oversight of governmental agencies like the CPSC and the hard work of personal injury attorneys who assist the injured and force large companies to take reasonable care to prevent future injuries from occurring.
Howard Ankin of Ankin Law (www.ankinlaw.com) handles workers' compensation and personal injury cases. Mr. Ankin can be reached at (312) 346-8780 and howard@ankinlaw.com.
Related articles