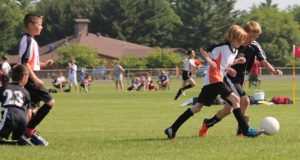 Zach's Law, which was passed by the Illinois legislature this summer, protects children on soccer fields. In 2003, 6 year old Zach Tran became the 36th victim in the United States to die as the result of unsafe soccer goals; many more have been injured. The sad reality is that most of the goals that are in existence have been designed and manufactured using metal for the top and sidebars. This design makes these movable goals top-heavy and easy to tip over. Players of all ages, from grade school to adults, have been injured or killed when an unanchored goal fell on them.
Any new goal purchased in the State of Illinois has to be tip-resistant, meaning that whether it's anchored or not, it will not be capable of being pushed over. The law also calls for older goal to be tied down or anchored.
As a responsible adult it is important to remind your child
NEVER take the field during practice or a game if the goal is NOT anchored. If you're not sure, ask the coach, referee or a parent.
NEVER hang from or play on a soccer goal.
NEVER move a soccer goal, not even if the coach or a parent asks you to.
NEVER practice or play alone.
Hopefully Illinois HB 1130 with protect all soccer players in the State of Illinois.