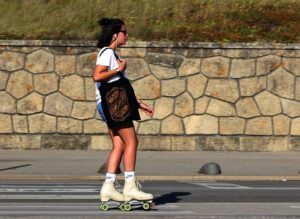 Under a new law, effective January 1st of this year, inline skaters and roller bladers can now skate in the road, though not within the City of Chicago. According to the statute, written on behalf of Elmhurst attorney and speed skater Ben Neiburger with the assistance of Illinois State Representative Chris Nybo, skaters and pedestrians do not have to try to use sidewalks together.
Now, skaters 18 years and older, can skate on the roads in all Illinois cities with populations below 2 million though skaters do have some restrictions. Skating on roadways is restricted to daylight hours, roads must be posted at no more than 45 mph and skaters must not "impede or obstruct other vehicular traffic."
Before this law went into effect, skaters were either required to skate on sidewalks, a danger to themselves and pedestrians with speeds of up to 20 mph, or skate against traffic, similar to pedestrians walking in roadways when sidewalks are unavailable. The law does not stop skaters from using the sidewalks though some areas and towns have their own prohibition against that use.
While some people have expressed concern about skaters in roadways, speed skaters feel that they, like bicyclists, understand the risks and will be vigilant about traffic conditions while skating.