Chicago Nursing Home Abuse Attorney
Illinois Medical Malpractice Attorney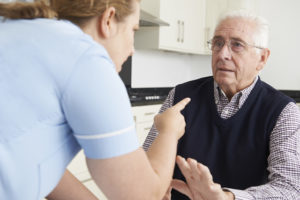 Nursing home abuse and neglect is, unfortunately, all too common. Nursing homes are overcrowded, understaffed and underfunded. Choosing a safe nursing home is the first step in preventing nursing home abuse. It is also important to know how to recognize the signs of nursing home abuse, and what to do if you suspect that you or someone you love is the victim of nursing home abuse.
Things to Consider When Choosing a Nursing Home
Making the decision to enter a nursing home facility is often a difficult one for elders and their families. Before choosing a nursing home facility, the following factors should be carefully examined:
Evacuation plan in place for emergencies
Adequate working smoke detectors
Adequate placement and maintenance of fire extinguishers
Adequate safety procedures with clearly marked stairways and exits clearly marked
Ease of movement throughout facility
Halls and toilets can support wheelchair access
Lack of floor hazards
Emphasis on resident/patient independence
Adequate and safe bathing facilities
Easily accessible dining facilities
Appropriate staff-to-patient ratio
Prompt response and communication with nursing home staff
Common Forms of Nursing Home Abuse and Neglect
The most common form of nursing home abuse is neglect. Frequently nursing homes are inadequately staffed and the patients' medical needs suffer as a result. The following are some of the more common manifestations of nursing home abuse and neglect:
Patient appears unkempt, including wearing dirty or inappropriate clothing and not bathing adequately
Lack of assistance with eating or drinking
Lack of personal hygiene assistance
Bedsores on patient as a result of failure to position the patient appropriately in bed
Failure to respond to call lights, buzzers or requests for help
Lack of assistance with walking and other movement exercises
It is also important to be on the lookout for possible financial exploitation, such as forgery of checks, refusal of patient access to funds, or misappropriation of patient's Medicare funds.
Reporting Nursing Home Abuse or Neglect
If your or someone you love is a victim of nursing home abuse, contact the Senior HelpLine (800) 252-8966 immediately. To file a complaint against a nursing home facility, call the Illinois Department of Public Health at (800) 252-4343. A Central Complaint Registry records and investigates complaints regarding hospitals, nursing facilities and home health agencies.
Once a report of abuse is made, a trained elder abuse case worker will contact the victim within 24 hours for the most dangerous situations, within 72 hours for less serious situations, or within seven days for all others situations to determine what services are necessary to stop the abuse.
Medical Malpractice Claim
If you or a loved one has been the victim of nursing home abuse or neglect, including medical malpractice, the skilled Chicago medical malpractice attorneys at Ankin Law can help you pursue your rights and seek justice. Contact us at (312) 600-0000 if you suspect that nursing home abuse or medical malpractice.
Howard Ankin of Ankin Law (www.ankinlaw.com) handles workers' compensation and personal injury cases. Mr. Ankin can be reached at (312) 600-0000 and howard@ankinlaw.com.