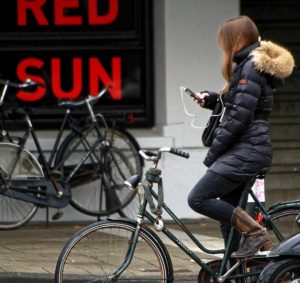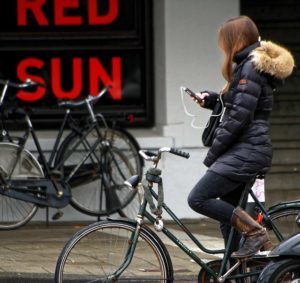 The dangers presented by motorists texting while driving has been in the news a lot lately. That's because it's an extremely dangerous practice that is becoming increasingly common as smart phone use becomes ubiquitous. For that reason, many jurisdictions have banned the use of smart phones while driving, as we've discussed on this blog many times in the past. Here are examples of just a few of those posts:: 1) Maryland Can on Text Messaging While Driving to Prevent Car Accidents 2) the dangers of commercial truck drivers using cell phones; and 3) Illinois ban on texting while driving.
The City of Chicago is going even further than the state of Illinois did when it comes to the distractions presented by texting and is extending texting prohibitions to bicyclists. As explained in this Chicago Tribune article, the Chicago City Council passed an ordinance last week which bans the use of smart phones while bicycling:
The City Council today passed an ordinance prohibiting bicyclists from texting while moving. They also cannot make cell phone calls unless using a hands-free device under an ordinance that passed the council without dissent. The ban will go into effect next month.

Fines will start at $20 for a first offense and go up to $100 for a third or subsequent violation. If an accident is involved, the fine could shoot up to $500.
This new ordinance is an interesting addition to the anti-texting laws being passed across the country. At first blush, it might seem that a bicyclist texting isn't nearly as dangerous as the distracted driver of a car, but bikers also pose a risk. If a distracted bicyclist rode into oncoming vehicular traffic, a serious car accident could occur, resulting in severe injuries to both the bicyclist and occupants of cars. For that reason, this new law makes sense and will hopefully prevent car accidents and save lives.
The Ankin Law Firm is committed to reducing the number of automobile accidents caused by distracted driving. Please take a pledge not to drive while texting and get a chance to win a new Flip video camera.
Howard Ankin of Ankin Law (www.ankinlaw.com) handles workers' compensation and personal injury cases. Mr. Ankin can be reached at (312) 600-0000 and howard@ankinlaw.com.