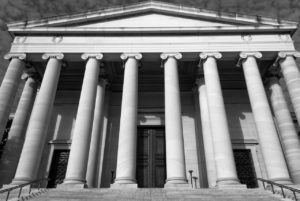 As the clock strikes midnight on December 31st, more than 200 new laws will go into effect in Illinois including a database of first-degree murderers, stricter seat-belt enforcement and legislation that gives the public greater access to government information. To see all of the laws, click here.
Andrea's Law
Illinois residents and law enforcement agencies will be able to easily identify individuals convicted of first-degree murder with the establishment of a new public database. House Bill 263, better known as "Andrea's Law", requires all former first-degree murder convicts to be on a registry for 10 years following their release from prison. They will be placed on the existing Sex Offender Registry or the amended Murderer and Violent Offender Against Youth Registry.
For the first time adults sitting in the back seat of a vehicle could be ticketed should they fail to wear a seat belt. House Bill 219 requires all adult passengers sitting in the back seat to wear a seat belt. Failure to comply could result in a fine not to exceed $25.
Increased Penalties for Financial Abuse of the Elderly
Criminals who take advantage of the elderly for financial gain will face stiffer penalties in 2012. House Bill 1689, increases criminal penalties for financial exploitation of the elderly, based on the amount of money that is stolen. Exploitation includes taking seniors' money, property or valuables, denying services to conserve funds, or cashing pension or social security checks without permission.
Electronics Recycling Goes Mainstream in 2012
Illinois residents will no longer be able to toss the electronics out in the trash. Jan. 1 a new state law goes into effect banning electronics from landfills.
Creating a moving image of child pornography
Filming, videotaping or creating a moving image of child pornography, or possessing these materials, is a felony one class higher than photographing or owning photos of child pornography. Currently there is no distinction between moving pictures and a still photograph in Illinois' child pornography law though the law does differentiate between actually filming or producing child pornography and possessing child pornography.
Anti-Epileptic Drug Notification
The Anti-Epileptic Drug Notification (SB 670/PA 97-0456) requires pharmacists to provide written notification to a patient when dispensing a prescription in which they have substituted a generic anti-epileptic for a brand name anti-epileptic drug.
Antique Vehicles "expanded-use"
Antique Vehicles (HB 3256/PA 97-0412) creates a new "expanded-use" category of antique vehicles (vehicles more than 25 years old). While regular antique vehicles are generally limited to driving to and from car shows when using state highways, the expanded-use vehicles have unrestricted use of the highways from April 1 through Oct. 31. The owner must pay appropriate registration and renewal fees and also pay the $45 per year fee for expanded-use antique vehicle registration.
Brand Name Prescriptions
The Brand Name Prescriptions (SB 2046/PA 97-0426) authorizes HFS to reimburse the dispensing of a 90 day supply of a brand name drug when it is a cost effective, non-narcotic maintenance medication. This bill will also authorize the 90 day supply for brand name drugs.
Cancer Insurance Coverage
The Cancer Insurance Coverage (HB 1191/PA 0091) mandates that routine patient medical care must be provided to patients participating in qualified clinical cancer trials, if the patient's policy would cover that routine medical care if they were not enrolled in the clinical trial.
Child Abuse Reporting
The Child Abuse Reporting (HB 2093/PA 97-0254)/(SB 1950) changes the legislation to reflect the current criminal penalty for making a false report of child abuse to DCFS, and updates the required posted warning to reflect that a false report is a Class 4 felony violation.
Condo Association Court Cost Recovery
The Condo Association Court Cost Recovery (SB 1972/PA 97-0535) allows a condo association to recover court costs incurred by the association during an action to enforce collection, rather than the association's costs of collection.
Co-Payment Scale
The Co-Payment Scale (SB 1236/PA 97-0422) bases child-care co-payments for families who receive child care services or public assistance on family size and income, not on the number of children in care or the amount of services used. It sets a sliding scale for co-payments, reflecting a lower percentage of income for the poorest families, and a co-payment that gradually increase as family income increases.
Copyright Restrictions
The Copyright Restrictions (SB 2040/PA 97-0538) prohibits the unlawful use of sound recordings, except when accompanying a motion picture or other audiovisual work, that were initially recorded before February 15, 1972. Anything after that date is protected by Federal copyright law and preempts state law.
Healthcare Information
The Healthcare Information (HB 1562/PA 97-0171) requires the Illinois Department of Public Health to make the Hospital Report Card Act available on its Web site. States linked to the Consumer Guide to Health Care and the Hospital Report Card Act on DPH's Web site must include a brief description of the information available in both. If relevant, DPH must reference the Web pages of the Consumer Guide to Health Care and the Hospital Report Card Act when it creates new or updates existing consumer fact sheets or materials for the purpose of educating the Illinois health care consumer.
Large Truck Speed Limit
The Large Truck Speed Limit (SB 1913/PA 97-0202) extends the uniform speed limit that currently exists for Interstate highways to include four-lane divided highways and provides that, outside of Cook, DuPage, Kane, Lake, McHenry and Will counties, the speed limit for trucks is uniform with cars, or 65 mph, on four lane divided highways.
Portable Electronic Insurance
The Portable Electronic Insurance (HB 1284/PA 97-0366) creates a new limited lines license for retailers that sell insurance to cover the repair or replacement of portable electronic devices, like wireless phones and computers. Anyone who offers or sells the portable electronics insurance must have a limited lines license.
The Smoke Detectors (HB 1398/PA 97-0447) requires hotels to be equipped with at least one smoke detector within 15 feet of every room that is used for sleeping purposes.
Social Security Number Protection

The Social Security Number Protection (HB 700/PA 97-0400) provides that IDFPR can only use a person's social security number on paperwork for initial licensing. After initial licensing a customer tracking number must be issued and used on all paperwork thereafter.
Uninsured Driving
The Uninsured Driving (HB 2267/PA 97-0407) requires mandatory maximum fines for a person who has multiple convictions for driving an uninsured motor vehicle. A $2,500 fine will be imposed, in addition to any jail sentence, for an individual convicted of driving an uninsured vehicle that results in bodily harm to another person, if the defendant has two or more convictions for driving an uninsured vehicle.
The Video Cameras in Vehicles (HB 3403/PA 97-0499) allows video cameras in cars featuring entertainment or business applications to be displayed on the front monitor so long as the images are not viewable by the driver while operating the vehicle.
Images are not viewable by the driver while operating the vehicle.