Chicago Motor Vehicle Accident Attorney
Illinois Personal Injury Attorney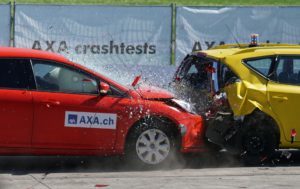 The Motor Vehicle Safety Act of 2010 was introduced in May 2010 following a series of Toyota recalls caused by an unintended acceleration defect. The bill is designed to improve vehicle safety standards in order protect drivers, enhance the oversight authority and resources of the National Highway Traffic Safety Administration (NHTSA), and increased manufacturer accountability.
Improved Safety Standards
The bill includes the following provisions designed to improve vehicle safety standards:
Stopping Distance and Brake Override Functionality Every car would be required to stop within a certain distance and include a brake override feature.
Pedal Placement Minimum distances between floor pedals, between foot pedals and the vehicle floor, and between any other obstacles to pedal movement would be required.
Electronic Systems Performance Passenger vehicles would be required to meet minimum performance standards for electronic systems (currently there are no such standards).
Keyless Ignition Systems A standard would be created by the NHTSA to require that a vehicle could be brought under control by using a keyless ignition system.
Vehicle Event Data Recorders (EDRs) Manufacturers would be required to install EDRs in all new vehicles to record crash data at least 60 seconds prior to and 15 seconds after a vehicle crash and airbag deployment.
Transmission Configuration Standard Manufacturers would be required to accurately label gear shifting controls and utilize a practical placement for such controls.
Enhanced Safety Authority
The bill also contained certain provisions intended to strengthen the NHTSA's ability to oversee auto manufacturers and take immediate action to remove unsafe vehicles from the market, including:
Increased Civil Penalties Civil penalties for automakers that intentionally fail to report safety defects or provide misleading information to the NHTSA would be increased to $25,000 per vehicle from its current penalty of $5,000 per vehicle.
Imminent Hazard Authority NHTSA would have authority to prevent further sales of a vehicle if an

auto defect

is deemed to create an imminent hazard that could lead to death and serious injuries.
Increased Accountability
The bill also included a number of provisions designed to keep consumers informed of safety defects and upgrades, including:
Improved Early Warning Reporting System NHTSA's early warning system would be modernized to allow consumers to more easily use and understand the online database of vehicle defect reports.
Vehicle Defect Reporting Manufacturers would be required to place a sticker or other form of notification in an easily-accessible location with instructions about how to contact NHTSA to report a potential

vehicle safety defect

.
Public Availability of Early Warning Data Early warning data would be made public unless the Secretary of Transportation determines that the information should be kept confidential.
Consumer Notice of Software Updates Manufacturers would be required to provide public notice of vehicle software updates.
Whistleblower Protections Auto industry employees would be afforded the same

whistleblower protections

as currently provided to airline employees and NHTSA would be required to establish a hotline for mechanics and other auto industry employees to confidentially report potential

auto defects

.
Corporate Responsibility The senior U.S. auto executive of auto manufacturers would be required to provide a written attestation that that all information submitted in an NHTSA investigation is accurate and complete, with the submission of false information resulting in civil or criminal penalties.
NHTSA and Auto Industry Independence – NHTSA employees that work on vehicle safety matters would be prohibited from working for the auto industry for three years after leaving the NHTSA if the job would involve communication with NHTSA or providing advice about NHTSA.
Status of the Motor Vehicle Safety Act
The Motor Vehicle Safety Act was introduced by Sen. John D. Rockefeller IV, Chairman of the Senate Committee on Commerce, Science and Transportation, on May 14, 2010 and is still pending approval by Congress.
Sen. Rockefeller recently applauded the NHTSA in a press release on February 8, 2011 for its announcement that it would take several new actions mirrored in Chairman Rockefeller's motor vehicle safety legislation. Namely, the NHTSA plans to consider proposing rules requiring brake override systems, standardized keyless ignition systems and EDRs in all passenger vehicles. The NHTSA also plans to begin research regarding the reliability and security of electronic control systems and the placement and design of floor pedals.
Passage of the legislation by Congress and implementation of the bill's provisions remains uncertain but the Chicago auto defect attorneys at Ankin Law will update you as more information is made available. Contact our office if you have been involved in an auto accident caused by negligence or an auto defect to discuss a possible personal injury lawsuit.
Howard Ankin of Ankin Law (www.ankinlaw.com) handles workers' compensation and personal injury cases. Mr. Ankin can be reached at (312) 600-0000 and howard@ankinlaw.com.