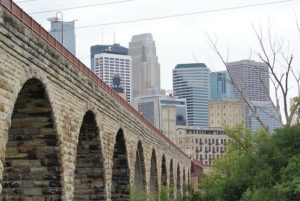 The Minnesota Supreme Court ruled last November 2011 that the State of Minnesota could proceed with its claim against Jacobs Engineering Group, Inc., the California firm that designed the Minnesota bridge that collapsed in 2007, killing 13 and injuring 145 others. The State's claim against Jacobs Engineering Group (Jacobs) is based on the fact that the bridge was designed by a firm that Jacobs acquired in 1999. The bridge collapse was found to have been caused by a design error that led to inadequate load capacity.
More than 100 lawsuits were filed in 2009 and, pursuant to the Minnesota Tort Claims Act, the State of Minnesota has paid more than $37 million to victims of the bridge collapse. The State has also sued URS Corporation, the firm hired to inspect the bridge in 2003, and Progressive Contractors Inc., the company who had performed repairs on the bridge. Both of these companies have also filed claims against Jacobs, the design firm, seeking contribution, indemnity and reimbursement for their liability under a Minnesota law that allows injured victims to make a statutory claim for reimbursement in the event of an accident. The court dismissed these claims, however, due to a ten-year Statute of Repose, which provides that a company is immune from liability ten years after construction of the bridge. Since the bridge was built in 1967, liability of Jacobs with respect to the claims of URS Corporation and Progressive Contractors expired in 1977.
Despite the fact that the indemnity claims of URS and Progressive Contractors against Jacobs were dismissed, the State of Minnesota's claims against Jacobs were not dismissed. The Minnesota Supreme Court ruled that the State's claims for reimbursement could continue due to a Minnesota statute that retroactively revived the State's claims despite the expiration of the State of Repose deadline. Specifically, Minnesota statute 3.7394 allows the state to recover from any responsible third parties any payments made from the emergency relief fund despite any statute to the contrary. Accordingly, the State is permitted to seek reimbursement for the payments made to victims of the bridge collapse despite the time limitations in the Statute of Repose.
Impact of Court's Decision
The Minnesota Supreme Court's ruling allowing the case to proceed against Jacobs Engineering could have far reaching effects. Despite a Homeland Security Report issued in April of 2011 revealing that nearly 12 percent of U.S. bridges are structurally deficient and should be replaced, many states have delayed replacement and basic maintenance on their bridges due to budget shortfalls. These lawsuits could provide a wake-up call to bridge design firms, architectural firms, construction companies, maintenance companies and state governments that bridges are part of America's infrastructure that can no longer afford to be ignored.
Howard Ankin of Ankin Law Office LLC (www.ankinlaw.com) handles workers' compensation and personal injury cases. Mr. Ankin can be reached at (312) 346-8780 and howard@ankinlaw.com.
ANKIN LAW OFFICE LLC
Chicago Workers Compensation | Chicago Personal Injury | Chicago Motor Vehicle Accidents
Chicago Wrongful Death | Chicago Social Security Disability | Chicago Class Act ion Lawsuits