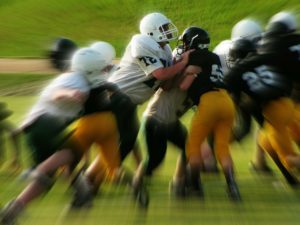 "Rocky's Law," which was signed on August 4th, by Governor Quinn and takes effect January 1, 2014 is requiring all high schools in Illinois to offer catastrophic insurance coverage for student athletes. "Rocky's Law" was inspired by and is named for Rasul "Rocky" Clark who was paralyzed during a football game in 2000. Rasul Clark played football for Eisenhower High School in the Blue Island suburb of Chicago until he was paralyzed from the neck down when he was tackled during a game. His care was provided through a $5 million insurance policy held by the school district. When that policy hit its limit, he relied on Medicaid and donations.
"These injuries are rare, but when they happen it's devastating for young athletes and their families," state Sen. Napoleon Harris, a Harvey Democrat and former NFL player who sponsored the bill, said in a statement. "These students' lives are dramatically changed in cases of catastrophic injuries, and they deserve access to health care coverage."
Sen. Napoleon Harris, a former linebacker in the National Football League playing with the Oakland Raiders, the Minnesota Vikings and Kansas City Chiefs, was extremely touched by what happened to "Rocky" that he wanted to help the family so Rasul Clark's story was not for naught.
The law says that a school's minimum policy will cover $3 million in aggregate benefits or five years of coverage – whatever comes first – for injuries that total medical expenses over $50,000. The law includes public and private schools and state officials estimate that the cost of the coverage will be no more than $5 a student. Currently, some schools carry insurance for athletes, but it hasn't been mandatory.
The mandate is unusual because typically high school districts are not required to cover student athletes who may suffer serious injuries. The financial burden has always been on the families. Before student athletes, cheerleaders, or even marching band members are allowed to take a step on the field, at the high school level they are required to sign a waiver showing they understand the risks involved and have to prove that they have their own accident insurance. If the student does not, schools typically offer a low-cost plan of their own. These plans can be used to cover additional costs for parents who carry insurance for their children, or they can cover primary costs, if the parents don't have private insurance.
The Illinois mandate is part of a "growing trend where the rights of athletes are being considered at a far greater level than they ever were for what is clearly a violent activity," says Warren Zola, a sports law professor at Boston College's Carroll School of Management.
An accident policy doesn't cover you if you have a cold, and if your child blows their knee out while cheerleading, or leaving the locker room if they are a football player, that might not be covered under health insurance. Call Ankin Law LLC and an experienced attorney can help you navigate laws.