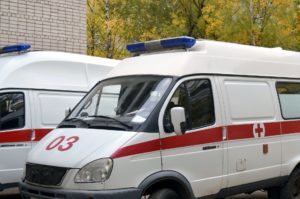 if you're injured as a result of an automobile accident with an emergency services vehicle that is responding to a call, are you be able to receive compensation for your injuries? Well, the answer is–it depends. In Illinois, in many cases, responding emergency vehicles maybe held to be immune from liability, but ultimately, the facts of the case will control whether you will prevail if you file a personal injury lawsuit based on your injuries.
Recently, the Appellate Court of Illinois, First District, considered just such a case. In Wilkins v. Williams, No. 1–10–1805, plaintiff was injured when an ambulance which carrying a patient during a nonemergency transport collided with her car at an intersection.
The issue considered by the court was "whether Williams' actions in making a nonemergency transport of a patient to a facility is covered by the immunity provision of the EMS Act and, if so, whether the immunity extends to cover injuries sustained by innocent third parties not directly serviced by the emergency workers."
In reaching its decision, the court reviewed the EMS Act, which established immunity for operators of emergency vehicles when performing their duties and rendering medical aid, in conjunction with the Illinois Vehicle Code, which addressed the duty of emergency vehicle operators to other motorists on the road:
(T)he EMS Act cannot be read to immunize ambulance drivers from third-party claims of negligence in the ordinary operation of a motor vehicle. To allow such immunity would render meaningless the Vehicle Code's provisions that the driver of an authorized emergency vehicle must drive with due regard for the safety of all other drivers. It follows that in order to harmonize the Vehicle Code with the EMS Act, the immunity provision of the Act does not extend to the negligent operation of a motor vehicle resulting in injuries to third parties.
So, applying that rule to this case, the court concluded that the EMS Act did not operate to extend immunity to the defendant for the plaintiff's claim of ordinary negligence in the operation of the ambulance. Accordingly, the court allowed the car accident lawsuit to proceed so that the plaintiff could attempt to prove that the defendant was liable to her for her serious injuries.
The Ankin Law Office LLC (www.ankinlaw.com) handles workers' compensation and personal injury cases. You can reach the firm by calling (312) 600-0000.