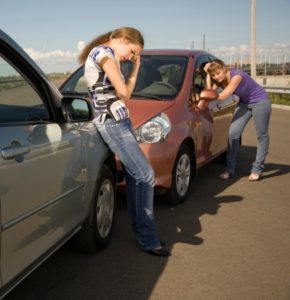 Everyone knows that teen drivers are the most likely to get into car accidents. Their lack of driving experience combined with distracted driving and an inability to appreciate risks all contribute to the greater likelihood that teen drivers will be in more automobile accident than adult drivers. In fact, according to this Chicago Tribune article, teen drivers are four times more likely to be involved in an accident than adults.
As explained in the article and as we discussed in a prior post, there are a number of factors that contribute to the higher accident rate:
Being Distracted Behind the Wheel
Taking Too Many Risks
Speeding
Overcrowding the Car
Driving Under the Influence
Following Too Closely
Driving Unbuckled
Driving Too Closely
Driving Drowsy
Choosing the Wrong Car and Not Maintaining It
It's not surprising then that teen drivers, as the newest drivers on the road, are the most likely to be involved in an accident. The statistics behind this phenomenon are examined more fully in this article:
Novice teenage drivers are the most likely drivers on the road to have car accidents. In fact, 16-year-old drivers have crash rates two times greater than 18-to-19-year-old drivers and four times that of older drivers, Allstate said…More than 81,000 people were killed in crashes involving drivers ages 15 to 20 in the decade from 2000 to 2009, making teen driving crashes the leading cause of teen deaths nationwide.
One solution to this nationwide problem is for all jurisdictions to pass laws which implement a graduated drivers license (GDL) system similar to the laws already in effect in Illinois and those being considered in Texas. As explained in the Times Record News article, GDL laws impose restrictions on new teen drivers. Over time, the restrictions are gradually reduced as the teen gains driving experience:
GDL helps new drivers gain experience under supervised and less risky conditions. The most comprehensive GDL laws include nighttime driving restrictions, passenger limits, cellphone and texting bans, mandatory behind-the-wheel driving time, minimum entry age for learner's permit (16), and age 18 before full licensure. In some states that have enacted strong GDL laws, the incidence of teenage driving related deaths have dropped by as much as 40 percent.
Not only do these laws reduce the number of teen deaths from motor vehicle accidents–they also save money by reducing funds paid by employers, state and local governments and citizens (in the form of taxes, fees and insurance premiums). These monies added up to a nationwide cost of $38.3 billion in 2009 which was applied toward "wage and productivity losses, medical expenses, administrative expenses for public and private insurance, police and legal costs, motor vehicle damage, employers' uninsured costs and fire losses."
In other words, graduated drivers licenses just make sense. Hopefully more jurisdictions, including Texas, will follow Illinois' lead and pass laws mandating the implementation of graduated drivers license systems. Doing so will reduce the number of teen car accidents, save lives and save money. It's a no brainer.
Howard Ankin of Ankin Law (www.ankinlaw.com) handles workers' compensation and personal injury cases. Mr. Ankin can be reached at (312) 346-8780 and howard@ankinlaw.com.