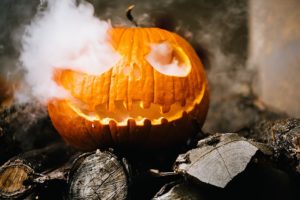 Severe Halloween injuries impact the lives of thousands of children and adults every year. When these injuries are caused by the negligence of others, victims have a right to compensation for medical expenses and related losses.
Halloween: Peak Time for Injuries
While millions of Americans are carving pumpkins, choosing costumes, and getting ready for Halloween, emergency rooms around the country are preparing for a frightfully busy holiday. Each Halloween approximately 4,500 children and adults sustain serious injuries that land them in the ER. This makes the holiday the fourth-most common time for injuries requiring an emergency room visit. Although most Halloween injuries are minor, some are life-changing and even deadly.
A Deadly Day for Children
The risk of death doubles for children who are trick-or-treating on Halloween, according to a 2012 State Farm analysis. Over 25% of pedestrian deaths that occur on the holiday happen between 6 and 7 p.m. Almost three-quarters of the deaths occur when children are crossing in the middle of a block instead of marked crosswalks or intersections. According to the National Highway Traffic Safety Administration (NHTSA), 14% of Halloween pedestrian deaths involve drunk drivers. However, most pedestrian deaths are caused by young, inexperienced drivers between the ages of 15 to 25.
Jack-O-Lantern Injuries Are Scary
According to the U.S. Consumer Product Safety Commission (CPSC), about 41% of Halloween injuries happen to people who are carving pumpkins. This popular activity is responsible for thousands of severe hand injuries that require medical treatment. Almost 33% of these injuries happen to children between the ages of 10 and 14. People who use sharp kitchen knives instead of safer pumpkin-specific carving tools are at an increased risk of suffering cuts and deep puncture wounds.
Burn Injuries on Halloween
Open flames in candles, jack-o-lanterns, and other Halloween decorations pose a significant burn risk to kids. Although costumes, masks, and wigs should be flame-resistant, the CPSC warns that this doesn't mean they won't catch on fire. To help ensure trick-or-treaters stay safe, parents should avoid buying costumes that feature flowing material and baggy sleeves, and only flare-resistant fabrics should be used. Additionally, people should replace open-flame candles with battery-operated devices.
Risk of Trip and Fall Injuries Increases on Halloween
According to the CPSC, trips, and falls account for about 32% of injuries on Halloween. Ill-fitting masks with eye holes that limit vision, poorly fitted costumes and those with flowing fabrics such as the case with sheets used as ghost costumes, and inappropriate shoes can all create trip hazards. However, not all falls are caused by masks or costumes. Poorly-lit walkways, decorations, broken sidewalks and stairways, and clutter also cause children to suffer broken bones, lacerations, and head injuries. Some falls also occur while people are putting up Halloween decorations and taking them back down. Unsafe ladders and poor ladder safety skills and usually contributing factors.
Halloween Presents a Higher Risk for Eye Injuries
The risk for serious eye injuries increases at Halloween for two reasons. Pointy costume props like swords, wands, sticks, or spears can poke out eyes. With the excitement of the holiday, children may be running with such objects. If they trip and fall, they could experience a vision-ending injury or cause someone else to have an eye injury. Costume accessories that are also dangerous to eyes are cheap costume contact lenses that can be purchased online or even at a local gas station. These contacts may look appealing, but they are extremely dangerous and not approved by the Food and Drug Administration. They may contain harmful chemicals, including chlorine or have rough surfaces that can injure the eye and promote infections that can cause blindness.
Increased Risk of Severe Allergic Reactions
A big draw to trick-or-treating for children is all the candy they will amass. After all, Americans spend almost 2.6 billion dollars on Halloween goodies every year. However, some of these goodies can be extremely dangerous to children with severe food allergies. Children who are allergic to peanuts, tree nuts, soy, milk, eggs, and wheat are at increased risk for an allergic reaction.
Keeping Children Safe this Halloween
To help prevent Halloween tragedies, parents should take steps to ensure their children's safety. Parents should:
Make sure costumes are safe, fit properly, and are fire-resistant
Avoid masks and using FDA-approved makeup as directed
Walk with young children during trick-or-treating
Go over safety rules with older children who may be trick-or-treating with their friends without adult supervision
Check all Halloween treats before children eat them
People who are injured on Halloween may be able to recover compensation to pay for medical bills, pain, and suffering, and lost income if they file personal injury lawsuits against the negligent drivers, property owners, or manufacturers who are responsible for their injuries.