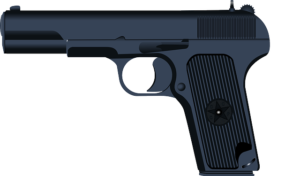 Chicago has long been known as a city with a high violence rate. Decades ago, the city's leaders created a ban on gun stores which has continued to the present time. Despite that ban, gun violence continues to be the city's biggest problem. In 2013 guns were responsible for the deaths of 415 people. While this fatality rate is the lowest it's been in over 40 years, it still remains three-times higher than gun violence in New York City.
Mayor Rahm Emanuel argues that banning gun stores makes it harder for criminals to buy guns and thereby, lowers the number of weapons on Chicago's streets. However, one report states that the majority of guns used in criminal acts come from outside the state of Illinois and that a large number of the guns taken by law enforcement come from cities near Chicago. It is also reported that more guns are confiscated in Chicago than in New York City or Los Angeles over a single weekend.
Despite the city's argument, a federal court ruled that banning gun stores from Chicago was a violation of the Second Amendment – the right to keep and bear arms for self-defense. The court issued an order that is forcing Mayor Emanuel to allow gun stores to open in the city. In response, the mayor introduced a new ordinance which opens the way for gun stores to operate, but restricts these businesses to less than 2 percent of the city's limits.
In a city council meeting earlier this year, Mr. Emanuel pointed out that gun stores allowed to open in the city would be required to submit their records to law enforcement upon request. Gun stores would also have to conduct an inventory audit each quarter and make sure their employees were trained on how to identify gun traffickers as well as pass a background check. Additionally, all purchases of firearms would need to be videotaped and a person would be limited to buying one gun each month. People who buy handguns would need to wait 72 hours and people shopping for shotguns or rifles would have a delay of 24 hours to complete the transaction.
Supporters of the new ordinance say the strict restrictions are needed to combat the level of gun violence that besieges the city. Those opposed to the new ordinance allege that the mayor's restrictions makes it nearly impossible for gun stores to operate, and interferes with people's rights to buy guns legally. Advocates of gun rights are already planning to challenge the ordinance, which was approved by the Chicago City Council, and believe that a court will find it to be unconstitutional.