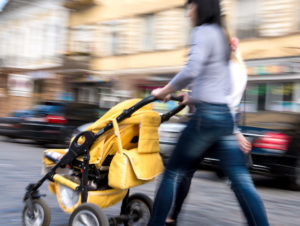 Graco recently recalled approximately 2 million Graco strollers because the strollers have been known to cause entrapment and strangulation, including four deaths between 2003 and 2005. There have also been several reports of infants becoming entrapped in the stroller, resulting in cuts, bruises and difficulty breathing.
The recall includes the older versions of the Graco Quattro Tour and MetroLite strollers and travel systems that were manufactured before the enactment of the voluntary industry standard in January 2008 that required a larger stroller opening between the seat bottom and the stroller's tray.
Entrapment and strangulation is possible with the recalled strollers when the child is not secured with the stroller safety harness, especially for infants less than 12 months of age. When the safety harness is not used, infants can slide down the stroller seat and pass through the opening between the stroller tray and seat bottom and his or her head and neck can become entrapped by the stroller's tray.
The stroller models included in the recall include the following:
Quattro Stroller, distributed between November 2002 and December 2007
Quattro Stroller Travel System, distributed between October 2002 and October 2007
MetroLite Stroller, distributed between November 2000 and December 2007
MetroLite Travel System, distributed between December 2000 and June 2005
The strollers were sold at AAFES, Babies R Us, Burlington Coat Factory, Fred Meyer, Meijers, Navy Exchange, Sears, Target, Walmart and other stores nationwide between November 2000 and December 2007 and cost between $90 and $190 for the strollers and $190 and $250 for the travel systems.
Consumers are advised to stop using the strollers immediately and contact Graco for a free repair kit. The model numbers of the recalled strollers are available at http://www.gracobaby.com/SafetyAndRecall/Pages/SafetyAndRecallArticle.aspx?recallID=38&page=SafetyAndRecall. Consumers are able to use the stroller as a travel system with the infant car seat because when the stroller is used with the accompanying infant car seat the risks of entrapment and strangulation are not present.
The CPSC advises parents and caregivers to always use the safety harness when your child is in the stroller since the harness can prevent a child from slipping between the seat bottom and the tray and to never leave a child unattended in stroller, especially when stroller seat's backrest is in the reclined position. The CPSC safety report also reminds parents and caregivers that babies as young as a few weeks old can move around, even when asleep. Babies younger than 12 months old are particularly at risk of becoming trapped in the stroller and possibly becoming strangled.
If your child has been injured while in one of the recalled strollers, you may wish to consult and experienced product liability attorney.
Howard Ankin of Ankin Law (www.ankinlaw.com) handles workers' compensation and personal injury cases. Mr. Ankin can be reached at (312) 600-0000 and howard@ankinlaw.com.