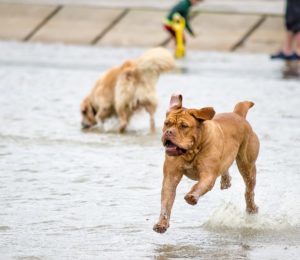 You have probably seen the Montrose Dog Beach on Lake Michigan where canines and their human companions can romp in the sand and splash in the water. This is just one of more than a dozen dog parks in Chicago where dogs are allowed to be off –leash. Many of these sites have doggie drinking fountains, and dog owner bulletin boards as well extra doggie bags.
While it may seem to be a walk in the park, dog owners should be aware that Municipal Code 7-12-140 requires all dogs four months and older be registered in Chicago. Registration is necessary to enter Chicago Park District dog-friendly areas. Rules for Dog Friendly Areas (DFA) are enforced by the Cook County Department of Animal and Rabies Control and they can issue tickets to violators. Violators face a possible fine of $500. The registration tag must be on the dog's collar or harness and dog owners must carry their permits at all times when attending DFAs. Even if you're just visiting for the day, you must have the permit and tag. There are no visitor or day passes.
Having your dog registered with the City shows that you are a responsible dog owner. Dog bites and mishaps happen; your dog can very easily be provoked into biting someone. In Illinois, the law is very strict regarding dog bites and dog attacks. As long someone haven't trespassed or otherwise provoked your dog into assaulting someone, you, as the owner of the dog, are liable for the injury. The Illinois Animal Control Act clearly states that: "If a dog or other animal, without provocation, attacks, attempts to attack, or injures any person who is peaceably conducting himself or herself in any place where he or she may lawfully be, the owner of such dog or other animal is liable in civil damages to such person for the full amount of the injury proximately caused thereby."
If your dog has bitten or attacked a person, call our Chicago dog bite attorneys at Ankin Law before you speak with anyone so we can properly advise you of your rights. A dog bite or an animal attack is certainly an unpleasant event and it can be very dangerous or even deadly! . We will investigate who was responsible for the attack, as we understand dog owners, know your rights and we will fight for you.
A dog is man's best friend but owning a dog is not only a privilege-it's a responsibility.