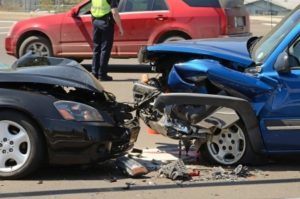 Sometimes during litigation, lawyers go too far. They become overzealous and let their personal experiences influence their tactical decisions. Unfortunately, doing so can oftentimes lead to disastrous results for your client. That's exactly what happened in Petraski v. Thedos, No. 1 10-3218, a recent decision issued by the Appellate Court of Illinois, First District.
The facts in this case are decidedly tragic. The plaintiff, Margaret Petraski was in a vehicle which was struck by the vehicle being driven by Officer Deborah Thedos, of the Cook County Sheriffs Police Department. The car accident occurred at an intersection and Ms. Petraski was was rendered a quadriplegic as a result of her injuries. There was evidence that the defendant drove through a red light while her cruiser's lights were activated. However, there was also evidence that the plaintiff's negligence may have contributed to the accident since she had been drinking on the evening of the accident.
Following a jury trial, wherein the jury issued a verdict in favor of the defense, the plaintiff appealed and the intermediate appellate court granted a new trial. The defense appealed that decision and on appeal to the First District, the plaintiff argued that the intermediate appellate court properly concluded that a new trial should be granted.
One issue on appeal was whether, during closing statements, defense counsel improperly commented on the societal impact of drunk driving. The Court described the specific statements at issue as follows:
Defense counsel also stated that Officer Thedos was "doing her job as a police officer that we, as residents of Cook County, pay her to do. Finally, defense counsel closed with the following: Let me share one of my images, when the aunt who helped raise me died from a drunk driver. * * * That's an image I have. What do we want on our roads Plaintiff's objection to this statement was overruled, and defense counsel continued: Ladies and gentlemen, there was one person, one person that night who had the right to be on that road. That was this police officer.
After considering the appropriate legal standards and case precedent, the Court concluded that defense counsel's statements were highly irregular and likely prejudiced the jury's deliberations:
The trial court found that defense counsel's statement, however true, was not invited by plaintiff's counsel and improperly invoked defense counsel's personal loss to garner sympathy. [I]t is highly improper for an attorney to do or say anything in argument the only effect of which will be to inflame the passions or arouse the prejudices of the jury against one of the parties without throwing any light upon the question for decision. (Internal quotation marks omitted.) Svoboda v. Blevins, 76 Ill.App.2d 277, 281 (1966) (quoting Coal Creek Drainage & Levee District v. Sanitary District of Chicago, 336 Ill. 11, 45 (1929))…The trial court was in the best position to judge the effects of defense counsel's comments, and it found that, while each of defense counsel's improper statements alone may be insufficient to merit a new trial, cumulatively they constituted grounds for a new trial. Based on the evidence we cannot say the trial court's decision to grant plaintiffs motion for new trial was arbitrary, fanciful, or unreasonable.
Accordingly, based on this error, along with a few others, the Court held that the plaintiff was entitled to a new trial, thus showing how important it is for lawyers to reign in their personal feelings when litigating a motor vehicle accident case and instead focus on the relevant evidence and legal standards.
The Ankin Law Office LLC (www.ankinlaw.com) handles workers' compensation and personal injury cases. You can reach the firm by calling (312) 346-8780.