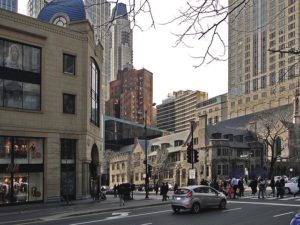 If you're a Chicago resident who drives a car, you can expect to get into a car accident every 7.7 years according to a report recently released by Allstate Insurance Company. And, your likelihood of being involved in an accident is 30% higher than the national average. In other words, buckle up, Chicagoans!
The report, the "Allstate America's Best Drivers Report," was released in the beginning of September. You can view the full report here. The report ranks the top 200 largest U.S. cities by rates of car collisions in order to identify the cities with the safest driving records. Fort Collins, Colorado came in first, making it the safest city for drivers. Chicago came in in the bottom 50 at 157th. Not exactly the best news, but an improvement from last year's ranking of 167.
But, Chicago motorists–don't despair! As explained in this Chicago CBSlocal.com article, with a bit of effort on the part of Chicago drivers, the city's ranking can improve:
We don't want drivers in Chicago to be discouraged by their ranking. Instead, we want the report to challenge drivers in Chicago to make positive changes to their driving habits that will in turn make the city a safer place to live, work and raise families, Judith Dodd, Allstate Territory Sales Leader in Illinois, said in a news release.

Allstate advised motorists to begin following safe driving tips minimize distractions such as cell phone use or even changing the radio station, being aware of road conditions and inclement weather, leaving a safe distance between your car and others, steering clear of road range, and maintaining the condition of your car.
Although Chicago's ranking isn't exactly impressive, according to the report, just by virtue of its large population, the city is bound to have a higher rate of accidents since drivers in U.S. cities with populations of more than one million people are more likely than the national average to experience a collision.
So, it's not all bad news. But, it certainly wouldn't hurt to heed the safety advice discussed above: reduce distractions, drive safely and keep your eyes on the road. That way, maybe next year Chicago will not only fare better in the rankings, but there will be fewer Chicago car accidents and the city will be a safer city for Chicago drivers, passengers and pedestrians.
Howard Ankin of Ankin Law (www.ankinlaw.com) handles workers' compensation and personal injury cases. Mr. Ankin can be reached at (312) 600-0000 and howard@ankinlaw.com.
Related articles