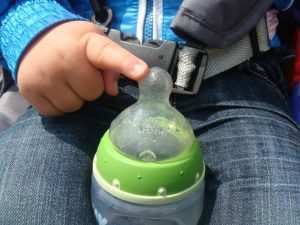 Litigation pending over BPA in plastic bottles has hit a major roadblock. Last month a Missouri federal court denied class certification for the plaintiffs' claims over the use of bisphenol A in baby bottles and sippy chips. The plaintiffs' claims were part of multidistrict litigation pending in a federal court in Missouri. Multidistrict litigation, or MDL, is a federal court procedure whereby civil actions with common issues of fact are combined for purposes of discovery procedures and pre-trial motions.
Although the court initially refused to certify three proposed multistate classes in 2011 based on issues regarding choice of law, commonality, and damages, the court granted the plaintiffs an opportunity to show that a class of Missouri-only consumers is appropriate for class certification. The plaintiffs then filed a motion for class certification of claims brought by Missouri-only plaintiffs against three manufacturers of baby bottles and children's sippy cups – Handi-Craft Company, Gerber Products Company, and Evenflo Company, Inc.
In denying the plaintiffs' motion for class certification of Missouri-only plaintiffs, the court focused on the plaintiffs' lack of standing. A court may not certify a class if the proposed class includes members who lack standing to bring a lawsuit against the respective defendants. The plaintiffs' class in this case included individuals who had not suffered an injury, such as those individuals who knew about BPA's existence and the potential dangers associated with BPA but purchased the products despite possessing this information.
The court also denied class certification based on issues of reliance. For instance, plaintiffs argued that knowledge includes only consumers' reliance on defendants' alleged nondisclosure of the dangers associated with BPA. The court disagreed with plaintiffs' assessment, however, and explained that the issue of reliance presupposes that the consumer did not know the relevant information. Since many plaintiffs in this case did possess knowledge regarding the potential dangers of BPA prior to purchasing the products, reliance could not be asserted.
Moreover, the court determined that the proposed class included individuals who may not have suffered an injury even if they were unaware of BPA when they purchased the products. The plaintiffs argued that the class members were injured through the lack of material information prior to making their purchases, but the court held that the consumers were purchasing baby products and not information.
In addition, the court found that there were concerns regarding commonality of claims with respect to the proposed class since classwide evidence cannot be used to show what defendants knew or should have known since the information regarding BPA changed during the class period of 1997 through 2006, as well as issues related to materiality, superiority and manageability of the claims.
If your child has been injured by a baby bottle or sippy cup containing BPA, you may wish to contact the experienced Illinois product liability attorneys at Ankin Law Offices, LLC to learn about a possible personal injury or product liability claim.
Howard Ankin of Ankin Law Office LLC (www.ankinlaw.com) handles workers' compensation and personal injury cases. Mr. Ankin can be reached at (312) 346-8780 and howard@ankinlaw.com.
ANKIN LAW OFFICE LLC
Chicago Workers Compensation | Chicago Personal Injury | Chicago Motor Vehicle Accidents
Chicago Wrongful Death | Chicago Social Security Disability | Chicago Class Act ion Lawsuits