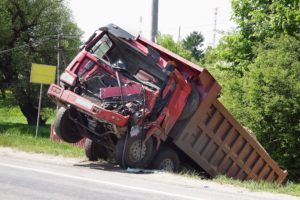 To prevent backover accidents in the workplace, employers, contractors, workers, and drivers must be aware of vehicle blind spots, problems with backup alarms, the presence of multiple vehicles, and how to make vehicles and individuals visible. According to the Bureau of Labor Statistics, backover accidents claimed over 215 lives from 2003 to 2010. The number of deaths has remained steady countrywide from 2012 to 2015. In July 2017, OSHA was forced to abandon a regulation proposal that would have improved safety levels for individuals working around heavy vehicles. As of January 2018, OSHA required that all backup alarms on construction vehicles be audible over the noise in the surrounding area.
How Do Backover Accidents Happen?
There are numerous ways in which backover accidents occur. Workers may not hear the backup alarm because it is not functioning properly or because other surrounding noises are louder. In other cases, the vehicle's blind spot prevents the driver from seeing a worker, or drivers may assume that the area is clear and reverse the vehicle without looking. Also, a spotter assisting one vehicle may not be aware that another truck is behind him, or a worker "hitching a ride" on a truck may fall off and get back over. In some cases, however, it's uncertain why a worker was in the path of a backing vehicle.
NIOSH Recommendations for Reducing Backover Accidents
NIOSH offers tips for drivers, contractors, employers, workers on foot, and others:
Drivers should always back up the vehicle under the direction of a spotter or video cameras with in-vehicle display monitors
Spotters should avoid using distracting items such as headphones and cellphones
Proximity detection devices such as sonar and radar should be installed to alert drivers when objects are behind them
Employers can create control plans that tell the driver where to drive and when to stop
Workers on foot should wear high-visibility gear as a safe practice for night work
Equipment, vehicles, and safety devices should be inspected at the start of every work shift
Proper employee training is another tool to minimize backover hazards. Employees on foot may not be aware of the blind spots behind and around the vehicle. To prevent backover incidents, they ought to be trained on where the blind spots are and how to avoid them, in addition to other standard operating procedures.